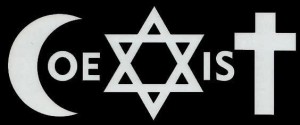 What does it mean to be American? It means you get to be anything you want to be. – "Papa Sam"
A recent spate of conservative rulings from the Supreme Court found me holding contempt for their allowance of public speech of a different sort. It seems it is fine to start every town hall meeting with claims about how Jesus Christ came back from the dead or how he is the ultimate judge. Do some research of your own and you'll agree, some of the quotes about what we are all supposed to believe surfacing in the non-sectarian public space are downright scary. The ruling in question here, The Town of Greece v Galloway (http://www.scotusblog.com/case-files/cases/town-of-greece-v-galloway/) was indeed close, a 5-4 vote, with the usual right wing and left in their respective corners.
But here's the thing. Here's how I know they're wrong for sure this time. It all goes back to my grandfather Sam Roth, or "Papa Sam" as we liked to call him. Born in the lower east side of Manhattan, NY in 1888, he was the oldest of four brothers. A tet-a-tet with his then 8th-grade teacher led him to drop out of school. This was a bold move, but one he insisted upon. The bone of contention, you ask? A disagreement regarding who exactly was President Washington's main general. Of course Sam was right, but the teacher refused his claim. Sam, not backing down, ended up just quitting the whole thing and shortly thereafter moved to the Left Coast (read: California), where he got a job at a cigar store in downtown Los Angeles. He saved some money and opened a furniture store and was making good money when a stroke overtook him in 1955. But he lived another 33 years, and it was during this third act of his life that I knew him well as my "Papa Sam." He was indeed something of a professional gadfly and local activist, a community organizer, if you will. He was president of the rotary, and was integral in getting all those palm trees planted that you can still see on Ventura Blvd. Suffice it to say, in his day, he was knows as Mr. Studio City.
From a socio-political angle, Papa Sam loved Nixon, and didn't scimp on sharing his affinity. He bought me many conspiracy books about communism and the trilateral commissions. In due time, he came to love Reagan, and in fact loved California to death. No. It was bigger. Papa Sam really loved his country. His business was recognized as one of the top ten during WWII for helping to raise war bonds. He always war a flag pin, and when I was a young boy, he'd tell me about my county. "M'boy" he would say, "in this country, the elevator starts at the first floor and goes all the way to the top." I had no idea what he meant at the time. I do now.
Despite, or perhaps given his love for the USA, there was one thing that really ticked him off: Congress would always begin their session with a prayer to Jesus Christ. He, like me, was Jewish, and he just could not understand why this country, founded on the ideal that people should be free to practice whatever religion they wanted, would shove one of those religions down people's throats. He would tell me: "The prayers say Jesus is lord. I don't think Jesus is lord, and I don't want to hear it. It puts me at the disadvantage. The people think that's what's normal, and therefore I'm not normal if I don't think like they do. They should not be allowed to say Christians are number one in this country." So he engaged in this crazy letter writing campaign to change the daily prayer in congress. In fact, this crusade was instrumental in getting Congress to change its prayer tune, so once in a while the Jewish prayer could be said.
Flash forward to today. The SCOTUS ruled that the people in New York don't have the expectation to object because they find it objectionable. "Lots of speech is objectionable" Scalia writes (and he of all people should know ), but that doesn't give us protection against it." Well, here's the problem with his point: it's not the fact that we find it objectionable, rather, it's the fact that we find it objectionable because it diminishes our rights to freedom of religion. We object because if the town hall is bowing their heads to Jesus and I'm up in 10 minutes to ask for a variance on my zoning, you can sure as shit bet I'm going to bow my head too. They're saying: this is what we believe, and we not only get to believe it, we get to make it the NORMAL way of believing, and you who come to get us to say 'yes' or 'no.' You get to hear us telling you that we have a state sanctified. This is now backed up by no less than the Supreme Court thing that says: you can hit people over the head with this every single gosh-darn meeting, and if they don't get the message that that's who we are, why, they will. We are a Jesus land thing, and if you want something, just be aware we're going to be praying to Jesus for a few minutes before anything else gets underway. Don't feel intimidated or anything mr. muslim, or mrs. jew, why, we would never let the fact that we now have the Sarah Palin power and Michell Bachmann backing to feel not only justified, but righteous in our exclusivity. We'll be watching you. It's Inquisitionary, and it is absolutely un-American. Just ask Papa Sam.